Monday to Friday : 8.30am - 7.00pm
Saturday : 9.00am - 12.00pm
Sunday : Closed

All our consultations are by appointment and are available at the following times:

Monday 9 - 10.30am, 2 - 3pm, 5 - 6.30pm

Tuesday 9 - 11.30am, 2 - 4pm, 5 - 6.30pm

Wednesday 9 - 11.30am, 2 - 4pm, 5 - 6.30pm

Thursday 9 - 10.30am, 2 - 3pm, 5 - 6.30pm

Friday 9 - 10.30am, 5 - 6.30pm

Saturday 9 - 11.30am

If you require an appointment outside of these hours please contact the surgery for advice.

Animal Services and Treatments
Acupuncture
Ann is trained to administer acupuncture and offers this for a wide range of problems, including arthritis and pain relief. If you would like more information please request a consultation with Ann.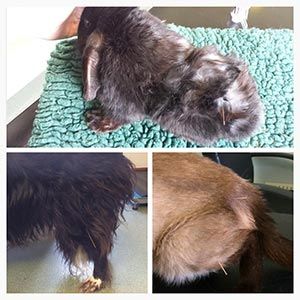 Pet Passports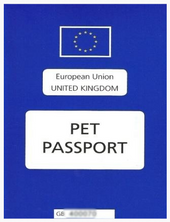 Ann is an Official Veterinarian (OV) which enables her to issue pet passports. Please note that animals must acquire a rabies vaccination and microchip prior to travel. More information can be found of Defra website https://www.gov.uk/take-pet-abroad/overview, alternatively call or visit us today for full details.
ID chipping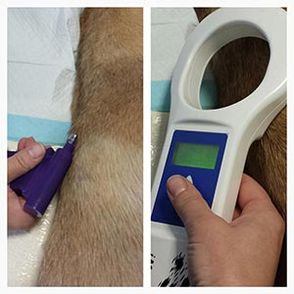 Id chipping involves the placement of a small microchip about the size of a grain of rice, under the skin in-between the shoulder blades. This is a quick and simple procedure that can be carried out during a routine vet consultation or if your pet is admitted to the surgery for neutering or another procedure. The microchip number is unique to your pet, with owner information being held on a national database. It is important that should you move house or change telephone numbers that you contact the microchip database company and keep your details up to date.
House visits
It is preferable to examine your pet at the surgery, where we have access to treatment and facilities, however we understand in certain circumstances this may not be possible. In these cases house visits can be made by arrangement at an additional cost. This will involve a vet and a nurse attending to your pet within the home.
Out of hours emergency service
In the event of an emergency after the surgery has closed we advise you to call the normal surgery telephone number, where you will be redirected to speak to the on call vet. If your pet needs to be seen out of hours the vet and nurse will arrange to meet you at the surgery and assess your pets needs. If your pet needs to be admitted to the surgery, overnight care will be provided.
Early Neutering
The surgery has an early neutering policy, we will spay/castrate cats and rabbits from 16 weeks of age.
Free Animal Weight Checks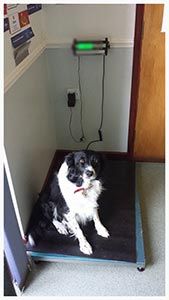 Patients are routinely weighed at consultations, if however you would like to pop in for free weight check please call into the surgery weekdays 11:30am - 2pm.

Obesity is becoming more common in our pets and can have many health implications, if we feel that your pet could benefit from losing a few pounds we may advise a prescription weight loss diet, or advise to attend our weight clinic with one of the nurses.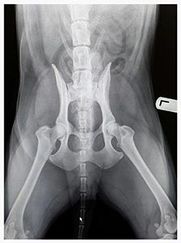 BVA/KC Hip and Elbow Scoring
The British Veterinary Association (BVA) and Kennel club (KC) offer health schemes for hip and elbow dysplasia, this will help breeders identify dogs that are free from clinical disease. The scheme involves having a series of x-rays taken, these are then sent to the BVA for scoring.
Nutrition and Pet care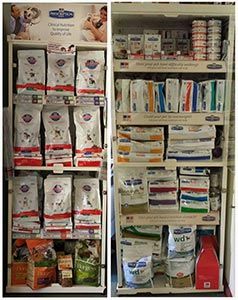 We stock the Hills Vet essentials range for cats and dogs, dietary advice is available on request, prescription diets are also available. For rabbits and guinea pigs we stock the Excel range including pellet food, hay and complementary snacks.

Our shop contains a variety of toys, leads, harnesses and other items, we update our products regularly. If there is a specific item you require that we do not have in stock this can be ordered from our stockists.
Animal Prescriptions
Repeat prescriptions for medication and written prescriptions can be requested via telephone, most requests can be dealt with within 24 hours, however some medications that we do not routinely keep in stock may take longer if they are a special order. Patients on medication will need veterinary reviews 3 - 6 monthly depending on the condition.